---
Following the International Olympic Committee's decision, Athens, after 108 years, hosted again the Olympic Games in August 2004. The opening ceremony on August 13 was a spectacular in every respect.
Τhe Olympic Games in 2004 returned to their ancient birthplace and the city of their revival. Athletes from all nations have united in Greece and engaged in noble competition.
The Athens Olympic Games combined history, culture and peace with sports and Olympism.

The people of Greece hosted these unique Games on a human scale, inspiring the world to celebrate Olympic values.
The Olympic Village finished on time and the stadiums were fantastic without exception. 70,000 volunteers worked morning, noon and night, always willing to help and please the spectators, the athletes and journalists.
Four Greek cities - Thessaloniki, Patras, Heraklio and Volos – were the Olympic Cities that hosted the football tournament at Games-time. There was one selected tournament ground at each of the four.
Within the 28 sports included in the Olympic Games, there are 37 disciplines, some of which, for instance the Track events in Athletics, are intrinsically connected to the Olympic history, while others have been added to the programme of the Olympic Games recently. One of these is the Women's Sabre discipline, included for the first time in Olympic Fencing in the Olympic Games in Athens.

Starting Ceremony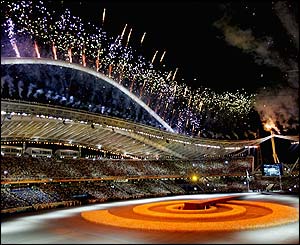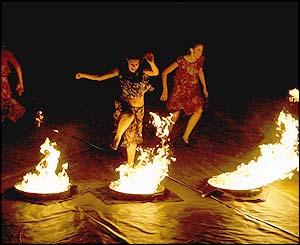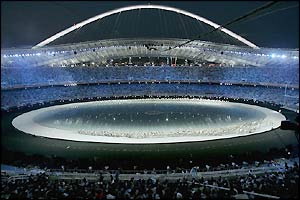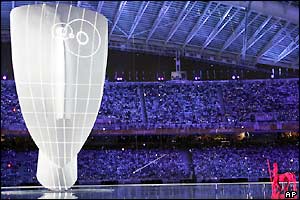 Table of Medals

---
Copyright © 2000 - 2004 Nostos.com. All rights reserved.